Teaching outstanding Health & PE lessons just got easier...
You've found the one place where you can gain instant access to the essential resources, advice and support needed to save you time planning quality lessons you and your students will love!
Check out this video for a 'sneak peek' inside the
PE Storeroom and catch a glimpse of how being a
PE Made Easy member
can help you!
Get a taste of the resources inside the PE Storeroom
Keen to check it out?
Subscribe below for FREE example resources…
We take your privacy seriously and will never spam you, share or sell your data. You can unsubscribe from emails at any time. View our Privacy Policy page for full details.
Become a PE Made Easy member to access the

The PE Storeroom is designed by PE teachers and provides you with:
Join us and let us support and guide you to improve your Health & PE lessons.
With a combined total of 30+ years of Health & PE teaching experience, we know first-hand the challenges you face to provide an outstanding Health & PE program for your students:
If you face any of these challenges, then you already know how hard it is to find quality resources, advice and support.​
That's what inspired us to build the PE Storeroom!
Thankfully, all of that is behind you...
The PE Storeroom is the essential resource community for Australian Health & PE teachers.
IT'S AN ONLINE STOREROOM...
And it's filled with expertly designed Health & PE resources that are easy to download, ready to use and aligned to the Victorian and Australian curriculum.
The resources inside the PE Storeroom will save you time and help you to have the best lessons going around.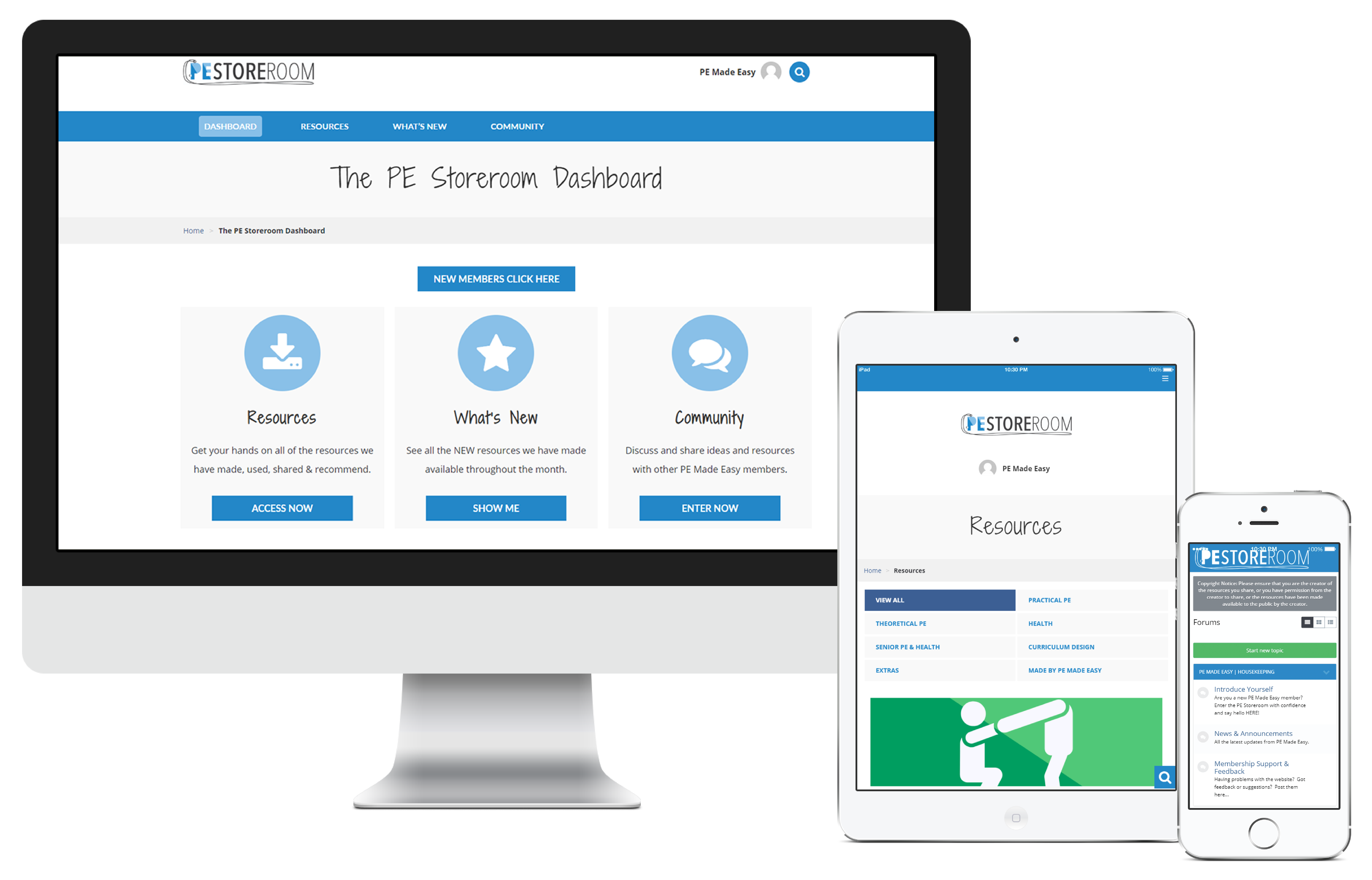 The PE Storeroom will help you to...
What makes the PE Storeroom different?
Meet the Team Behind the PE Storeroom
Hi, we're Airlie and Heath, otherwise known as "PE Made Easy" – and we've spent years creating Health & PE resources and sharing these and other amazing ones with our faculties and HPE networks.
With a combined 30+ years teaching Health & PE, we've been the driving force behind a multitude of improvements to Health & PE curriculum – we have a proven track record of helping great teachers to achieve fantastic results.
In 2018, we decided to take all of that knowledge and experience and use it to help Health & PE teachers just like you to plan and deliver outstanding Health & PE lessons, and so the THE PE STOREROOM was created. We seriously love spending time creating resources and supporting our members.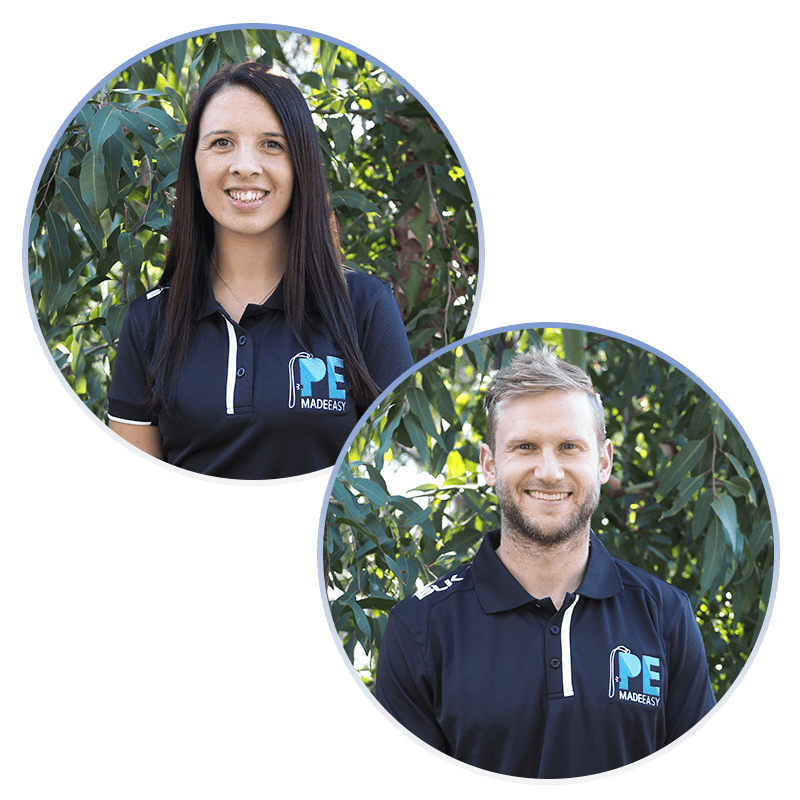 All PE Made Easy members get access to:
Immediate access to
ALL of our RESOURCES
We have a ever-increasing library of resources for you to dive straight into as soon as you join. You can SEARCH for resources, EDIT and MODIFY them to suit the needs of your students. All resources are super ENGAGING and EASY to implement.
All resources are designed to support Victorian & Australian Curriculum – Health & Physical Education (F-Year 10) as well as Senior PE and Health.
You can access what you need, when you need to, from wherever you want.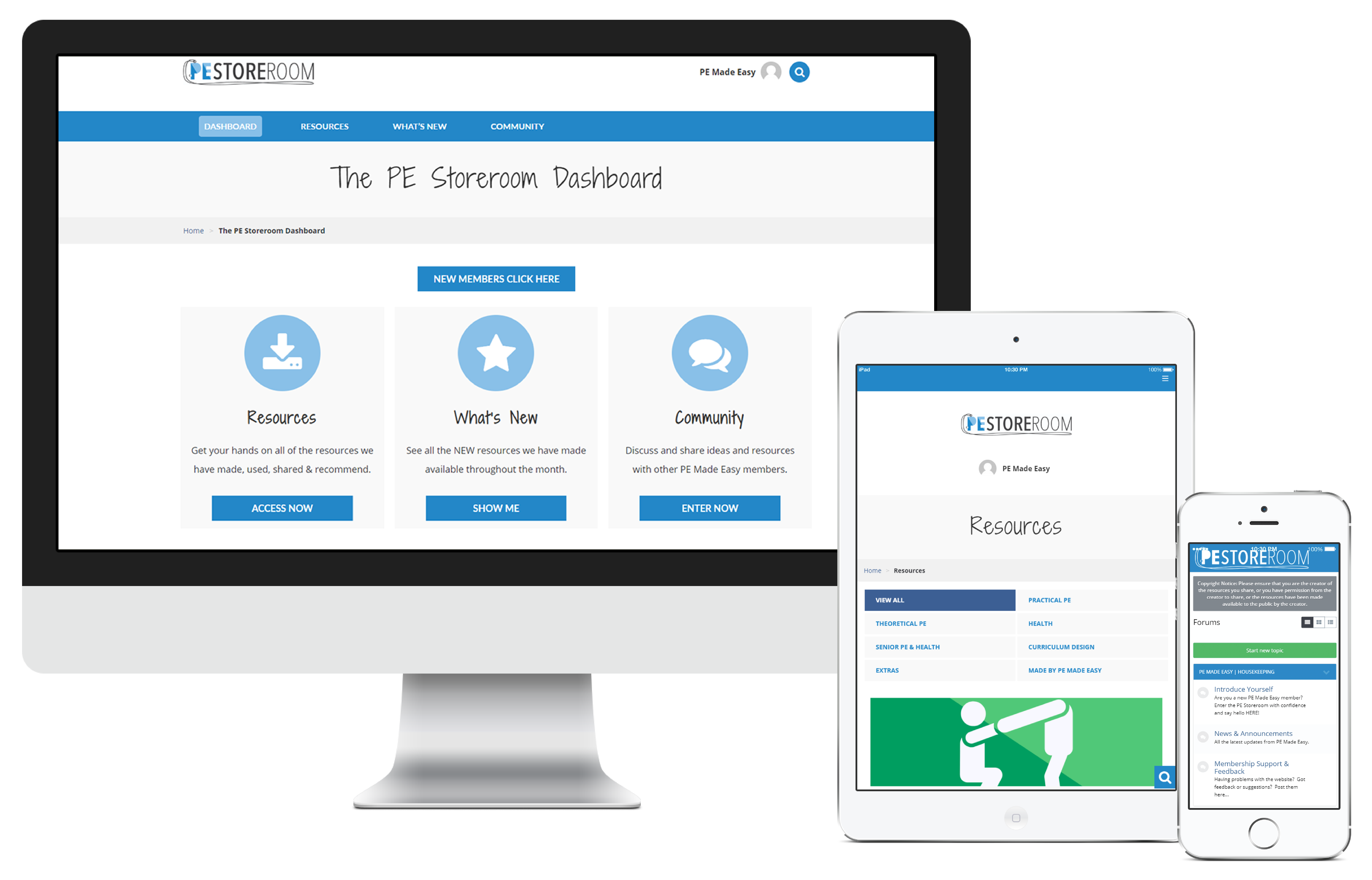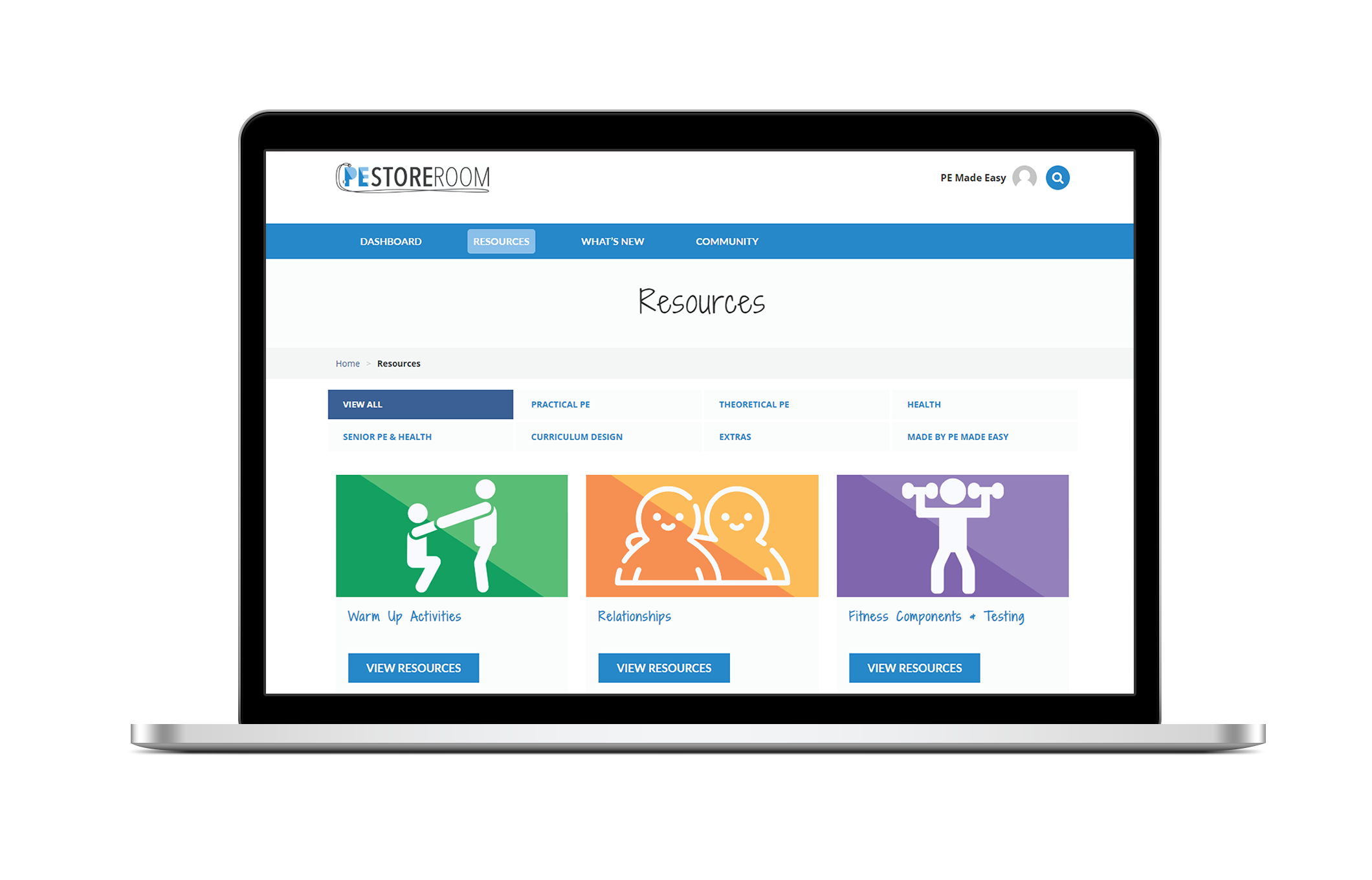 Here are some of the categories that we will be developing resources for over the coming years…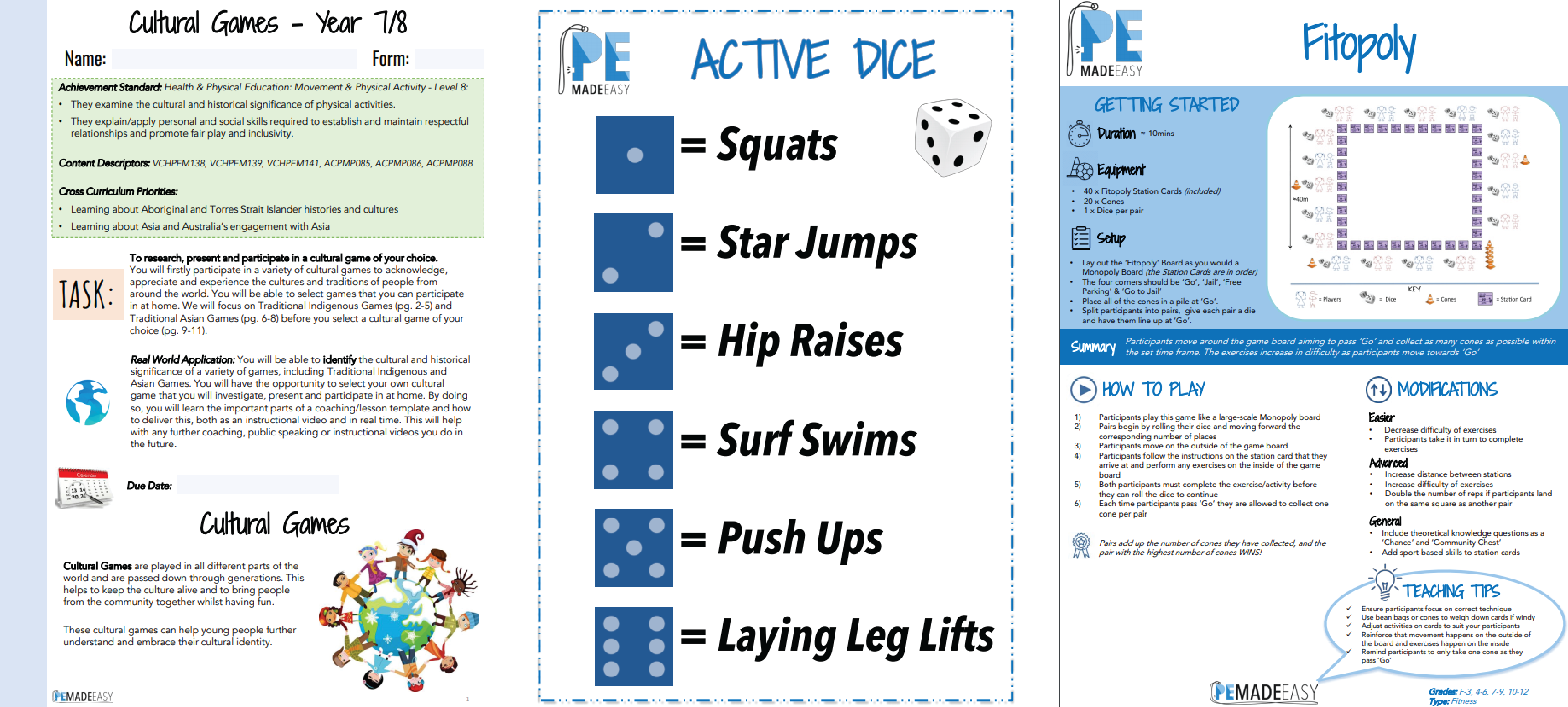 Resources include games, activities, videos, worksheets, assessments, lesson plans, unit plans and more.
More and more resources added every month...
ONLY inside the PE Storeroom!
All of this and much more ONLY inside the PE Storeroom.
How the PE Storeroom differs from the PE Made Easy Facebook page:
What we share through our Facebook Page won't change though – these are just all added benefits of becoming a PE Made Easy member.
30 Day No Questions Asked

Money Back Guarantee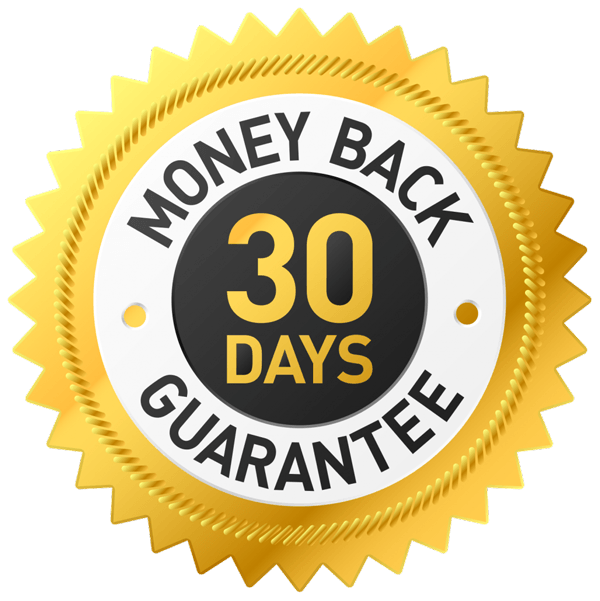 When you become a PE Made Easy member you are fully protected by our 100% Satisfaction Guarantee. 
If you don't feel like you've received value and you decide you want to cancel any time within the next 30 days, just let us know and we'll send you a prompt refund. No hassles, headaches or hoops to jump through.  We will simply request some feedback to help us to deliver a better membership for others.
We do recommend you experience the PE Made Easy membership for as close to the 30 day mark as possible before contacting us, so you get the full member experience throughout your first month with us.
We're confident that you'll find the PE Storeroom useful, and we won't make you beg or invoke any silly rules or conditions – if you're not satisfied within your first 30 days then we'll refund you without any fuss.  
Become a PE Made Easy Member!
If you're ready to take your teaching to the next level by becoming a
PE Made Easy member, simply choose your payment option below and
click the button to join us today…
ANNUAL MEMBERSHIP
(FOR INDIVIDUALS)
Purchased by individuals only.

Recurring annual payments of $169 AUD.

PayPal or Credit Card (Stripe)

Price is secured for lifetime of membership.
INDIVIDUAL MEMBERSHIP VIA SCHOOL PURCHASE ORDER
Membership valid for 12 months.

Access upon completion of payment and processing.

Individualised login access for the staff member.

Suitable for School Purchase Orders.

Bank Transfer, PayPal or Credit Card (Stripe).

This membership is for individual access only.
SCHOOL FACULTY MEMBERSHIP
(for 2-5 Staff Members)
For faculties of 2-5 staff members.

Membership valid for 12 months.

Access upon completion of payment and processing.

Individual login access for each staff member.

Suitable for School Purchase Orders.

Bank Transfer, PayPal or Credit Card (Stripe).

Each membership is for individual access only.
SCHOOL FACULTY MEMBERSHIP
(for 6+ Staff Members)
For faculties of 6+ staff members.

Membership valid for 12 months.

Access upon completion of payment and processing.

Individual login access for each staff member.

Suitable for School Purchase Orders.

Bank Transfer, PayPal or Credit Card (Stripe).

Each membership is for individual access only.
All prices are in Australian Dollars
Payment Details:
PE Made Easy
ABN: 91 718 946 497
PO Box 1193, Bundoora VIC 3083
theteam@pemadeeasy.com
0402 902 510
If there's anything at all that you're not certain about, anything we haven't made clear; any concerns or questions then please do contact us at theteam@pemadeeasy.com and we'll help you out.
What others are saying about us
We've been working with Health & PE Teachers like you for years. Here's what they have said about us...
Don't be Scared to reach out and seek for Help and Guidance, I Was going through A Lot in my relationship Until I was refered to Dr ASIKA blessed spiritual healer and spells caster who help me to get back my ex.He do all kinds of readings ❤️Love spell 💔Ex back spell 🤰pregnancy spell 💰Lottery spell 💵Financial spell 🔥Black magic removal 💯 Cleansing WhatsApp number +2347062308553 👇👇 https://www.facebook.com/profile.php?id=100095194744001&mibextid=LQQJ4d

John Maduja


October 2, 2023

Airlie thank you so much for the thought and effort that went into personalising the session for the Beaconhills team. The staff have had nothing but positive feedback on the professional development which they found fun, informative and practical. Many of the warm up games have been implemented into lessons already and the rubrics have generated positive conversations around assessment. We would highly recommend a practical learning session with PE Made Easy!

Renyce McConnell


August 3, 2023

Airlie was fantastic to work with! She was flexible, fun, and super easy to communicate with. We requested a PD around warm up games and game sense activities. Airlie and the PE Made Easy team were able to tailor their presentation so we all walked away with a range of new games and ideas for our PE classes. Plus, it was a fun way to build team culture among HPE staff.

Chloe Mace


March 23, 2023

such fun and practical ideas to implement into the PE curriculum. I feel energised and ready to try new things! The delivery was excellent and it was a great way to collaborate with peers. A must for every PE program!

Kendall Otten


March 16, 2023

A huge thank you to Airlie from PE Made Easy who came out to our school to run a Professional Development session with our PE staff during our Curriculum Day. All staff were highly engaged and extremely impressed with the delivery of the session. The smooth transitions between each activity allowed for maximal time to participate in a range of activities that can be easily implemented in our own classrooms. This session was exactly what our team needed, to add a range of new options to our toolkit. It was fantastic to learn fun, new activities that we have already began implementing to our junior classes. All the resources (soft and hard copy) are so valuable and make it super easy to update our curriculum documentation. 'The best PE PD ever' were the words of many staff afterwards. Thanks so much to the PE Made Easy team & specifically Airlie for facilitating the session!

April Glare


November 27, 2022

It was a pleasure having Airlie come and use our faculty meeting time to help us further develop our skills. The team absolutely loved it and gained a lot of valuable ideas and advice. Teachers were using some of the games period 1 the next day. I'll be booking in for 2023. Thank you Airlie and PE Made Easy

Dave Cobra


November 22, 2022

Thank you so much Airlie for being so easy to work with and for developing a PD session tailored perfectly for our school. Your knowledge and the way you explained each game was just perfect and each staff member thoroughly enjoyed themselves. Our team really wanted to refresh our Warm Up Games Toolkit and you completely delivered! Look forward to having you back later in the year!

Ellen Olivia


June 13, 2022

Airlie is professional, friendly, efficient, supportive and incredibly knowledgeable. She provided professional learning to our staff that made an immediate positive impact for our students studying Health and PE.

Sam Milbourn


May 2, 2022

Airlie's presentation provided an understanding of the process involved in undertaking a Year 6-10 HPE audit. She provided clear links to our current HPE curriculum which considered the requirements of both the Australian curriculum and IB Middle Years Programme. She also suggested innovative solutions to incorporate VCE concepts, key knowledge and skills into our Year 6 - 10 HPE curriculum. Our staff found the PD session to be engaging and valuable. Airlie is an excellent presenter who was well-prepared for the session, tailored all materials specifically to our school and provided great ideas and resources to further develop our HPE units. Michael Wengier Oakleigh Grammar Head of Health and Physical Education (Year 6 - 12)

Michael Wengier


December 12, 2019

Great session last night ran by Airlie. Our teachers have already implemented most of the warm up games she taught us this morning! The resource to go along with the session was also well made and easy to read and will be a great resource for our teachers moving forward. Thanks for a fun and informative session. Can highly recommend.

Michael Wooly


March 19, 2019

Thank you Airlie for a fantastic 90min PD. Our PE department at Bialik College thoroughly enjoyed and learnt heaps from the session. Airlie's enthusiasm and professionalism was outstanding. We are all looking forward to implementing the different warm up and fitness activities you taught us. I highly recommend Airlie for your next PE PD! Thanks again.

Foy Foy


January 31, 2019

We had a fantastic, 90 minute PD with Airlie! The staff at Santa Maria College heard about Airlie through the PE Made Easy Facebook page. We currently use the PE Made Easy body systems resources, which our students really enjoy completing! After using some of the resources from the Facebook page, we decided to book PE Made Easy for a PD session. We learnt new warm up and fitness games, along with game sense activities that we can incorporate in nearly every unit across our curriculum. The session was really fun and Airlie's ideas and games are so creative, inclusive and engaging. We left the session with heaps of new ideas and felt really excited to try the new games in our classes. We highly recommend booking a session with PE Made Easy!

Emma Maree


November 14, 2018

Had a blast in the freezing cold but that was no issue in getting our big pe staff and pre services teachers running around with fitness activities and warm up games at Mount Ridley College. It was so good all the staff said it was the best pd they've done in ages and every class has had some aspect of what we learnt tried out on them in the last week! Thoroughly recommend it as all staff get the opportunity to dig in rather than one or two at an external pd!!!

Hamish Pearce


August 25, 2018

I contracted Airlie as a consultant to assist me with creating documents outlining how the activities offered by my business align with the Victorian Curriculum. She also consulted on how I could update my website to make it more user-friendly. Airlie has a wealth of knowledge that was so valuable to me and my business. She was a dream to work with, always delivering work promptly and professionally. Thanks for all your help Airlie!

Jade Nicholson


August 23, 2018

Airlie shared a brilliant presentation at the recent Achper conference. As a teacher working in a new school, her knowledge around curriculum mapping was invaluable. I came away with some awesome templates to help me with my planning and strategies to implement the 'backward by design' method. I would like to consult with Airlie and her team as our school ( Richmond High School) continues to grow in students ( and staff members). Thanks Airlie

Georgia Anne


June 29, 2018

Airlie's curriculum knowledge and support has been incredibly helpful to the PE staff at our school. She has supported many staff in the implementation of new PE subjects into our curriculum and has also devised excellent lessons and assessment tasks for some of these subjects. The PE Made Easy resources are great for junior PE classes and are used regularly by all of the PE teachers. Airlie's kind, patient and supportive personality is greatly appreciated by everyone. Thanks Airlie!

Sophie Tayton


June 17, 2018

Huge thanks to Airlie, she tailored a program that suited our students. We found our selves being very stale in the activities being taught in PE, we now have some new and exciting warm up and minor game style activities that our students will absolutely love.

Jess Fingg


June 5, 2018

A special thank you to PE made Easy! Airlie ran a very professional, engaging and well structured PD. Feedback from all the staff involved has been that the session has given them new ideas to try in their Physical Education classes. A very worthwhile way to spend meeting time as it will improve our Health and Physical Education program. From HPE Domain Koo Wee Rup Secondary College.

Shona Perrin


May 24, 2018

A big thanks to Airlie for coming out to our school to run the practical workshop for both expat and Indonesian PE teachers from the various schools in Bali. PD sessions are few and far between in this region and this is certainly a PD I would highly recommend. All participants were fully engaged in all activities and left very satisfied that they would be able to implement these activities into their teaching programs. Airlie was very approachable and presented in a very organised way which was heaps of fun and very informative.

Rod Diggle


April 26, 2018
Frequently Asked Questions
So, you have questions? Let us try to answer those for you...
If there's anything at all that you're not certain about, anything we haven't made clear; any concerns or questions then please do contact us and we'll help you out.